Yi Bamboo Limited is a China Mainland Registered company and HongKong Registered company. We do business with clients from all over the world.
Yi Bamboo as a Bamboo Products factory. We have bamboo fabricate factory in NanPing city of Fujian, China since 2008 . we're always optimizing our manufacturing process to offer high quality products to our clients with competitive price. All of our Bamboo Wooden Products are produced by a team of skilled craftspeople and fabricated from the finest materials available.
Our major products including wooden tea box, bamboo serving trays, bamboo furniture and bathroom accessories.
We Love To Work & We Love Where We Work
We are working with the planet′s most eco-friendly, rapidly renewable resource, Yi Bamboo′s fine bamboo products have enduring beauty, style and quality.
Located in a famous Bamboo town Nanping of Fujian Province. We are professional in developing, manufacturing and selling bamboo products over 10 years. All the products are scientifically designed, with best appearance, exquisite workmanship and advanced functions. Our bamboo raw material are stricted selected from the bamboo forest, to control the quality from the begining. We successfully create a batch of good-quality and competitively priced bamboo products.
In 2019, Yi Bamboo deciede to go further. As one of the top manufacturers in bamboo industry, Yi Bamboo always create a standard for other companys. We invest R&D department for new designs to be showed in 2020 and 2021.
Located In Beautiful NanPing City
It is in the southeastern of China: Fujian Province
Phone: +86 189 50227687
Email: Info@yibamboo.com
1. Dry Bamboo Raw materials
Specially used for the drying of raw materials in kilns, high temperature ventilation makes it as dry as possible, usually we control the humidity of bamboo raw materials within 7%.
2. Polishing process of bamboo strips
The slub of bamboo raw material needs to be sanded off by this sanding machine, so as to ensure that the final plywood is free of voids.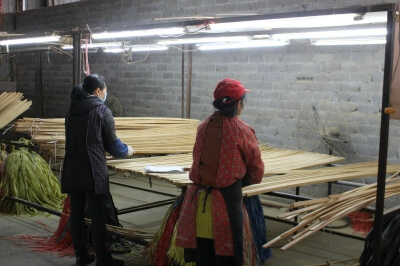 3. Color selection.
The color of bamboo raw materials has different darkness, this process can ensure that the final plywood reduces the color difference as much as possible.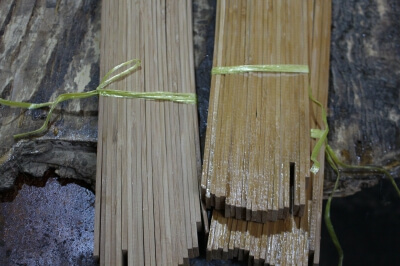 4. applying glue for vertical plywood
The formaldehyde content of bamboo products is closely related to the glue used. We are using the most environmentally friendly glue for bamboo plywood.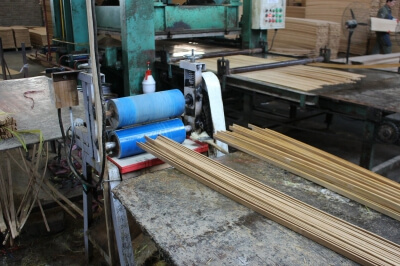 5. Applying glue on bamboo strips
The amount of glue used is strictly controlled. We will ensure that the machine can evenly apply a sufficient amount of glue on each side of the bamboo strips.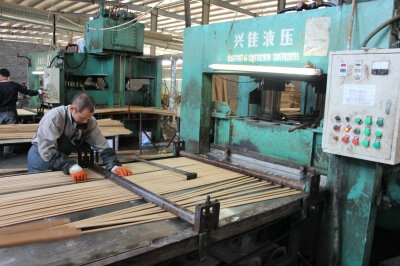 6. Pressing bamboo plywood board
Professional hot pressing machine for bamboo plywood. Strict control of temperature and hot pressing time, every piece of bamboo plywood produced is so perfect!
7. Semi-finished bamboo plywood
Strictly inspect each piece of bamboo plywood that has just been hot-pressed. If there is a quality problem, select it directly and rework it!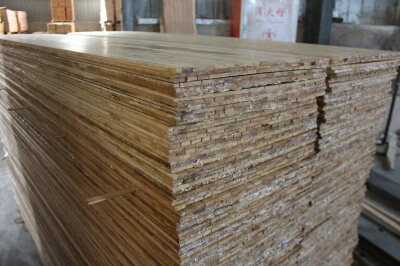 8. bamboo plywood cut end
After the inspection, the qualified semi-finished bamboo boards can be processed in the next step: cut to size.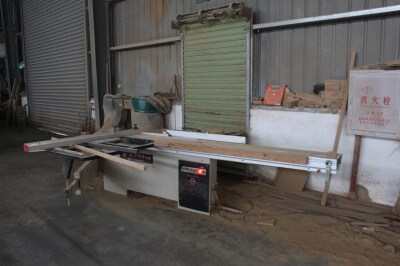 9. cutting panel for large bamboo board
A piece of qualified bamboo plywood needs to be preliminarily cut according to the size of the order product. This machine is specially used to cut 2 meters long board into small size raw materials.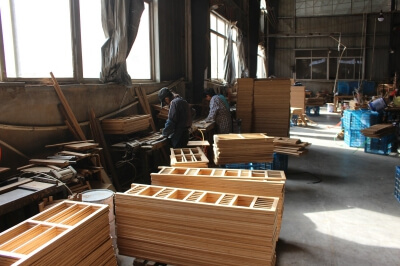 10. bamboo products sub-assembly
The sun is shining and the workers are in a better mood. A happy worker will take the job at hand more seriously.
11. assembly of bamboo boxes
Bamboo box is one of the main products of our factory, and the workers have enough experience to make every box very well.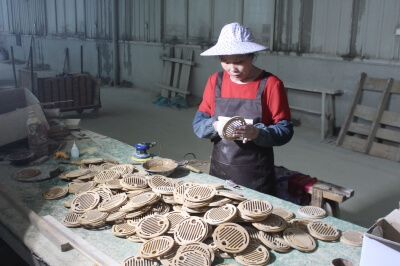 12. carefully polishing bamboo products
One of the characteristics of bamboo products is that there will be burrs of bamboo fibers. After the semi-finished products are polished by the machine, they need to be manually checked and then polished more seriously.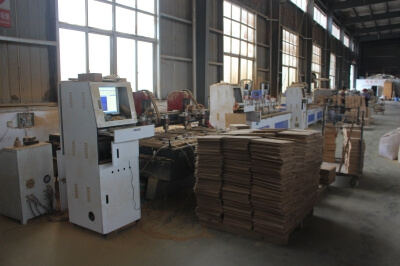 13. Auto machine for cutting to shape.
We use machines to complete the processing of products of specific shapes. So you can send vector drawings, we use computers for precise cutting.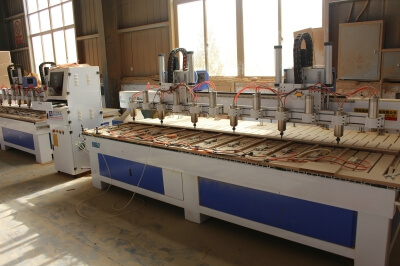 14. CNC routers machine
At present, our factory is equipped with 3 CNC router machines. Each one is equipped with at least 9 cutters, which can cut 27 products at the same time according to computer drawings.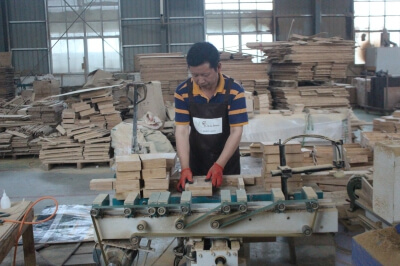 15. detailed processing
Many of our workers have at least 5 years of bamboo product processing experience and are able to perform precise punching, cutting, assembly and other processing processes.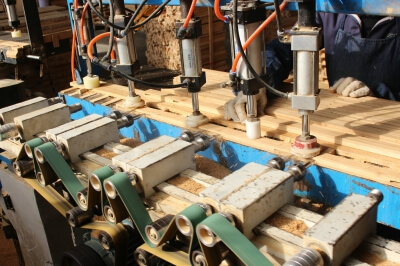 16. drilling holes
Maybe you don't know yet, not every factory has such a machine, yes, it can drill holes horizontally.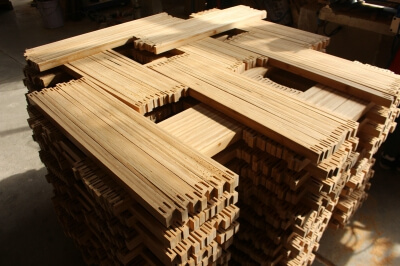 17. sub-assembly wait for inspection
We know that it is very important to find defective products as early as possible in the production process, so QC will be required to check after each process is completed.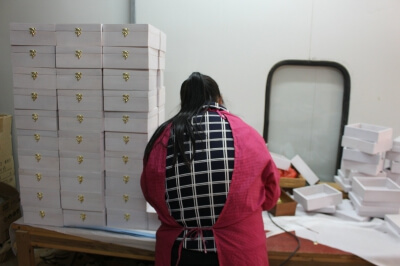 18. Hardware installation
Whether it is a hinge or lock of a wooden box, or hardware of furniture, we require workers to install screws carefully.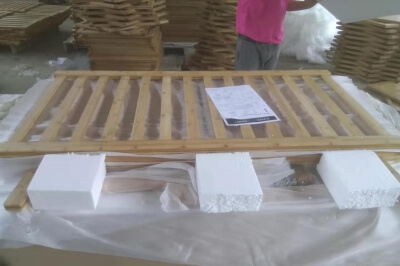 Bamboo furniture packaging
The packaging of bamboo furniture requires the use of protective cushioning materials. We don't want you to receive products that are damaged by logistics. Our workers will be sad.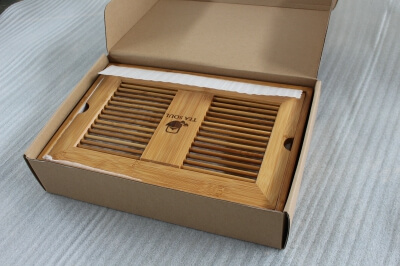 Individual box packaging.
If you need your product to use a separate kraft carton, we can provide a custom carton packaging service.
pp bag bulk pack
The most economical and simplest bulk packaging, transparent plastic bags can keep the product clean and tidy.
Bubble bag packaging
For bamboo boxes, bamboo trays, and small and medium-sized storage boxes, we recommend the use of bubble bags. It can protect the product from being crushed and damaged during transportation.
Corner protect foam packaging
For larger bamboo products, we will recommend the use of such EVA material corners protect, they can maximize the protection of products from violent express damage.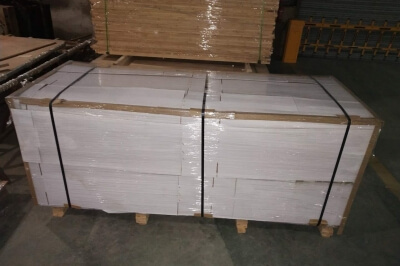 Pallet packaging
For bamboo plywood this very heavy packaging, you must use a tray. We will provide various packaging solutions to our buyers.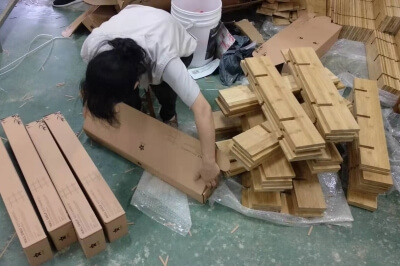 KK cardboard box packaging
Our lovely workers are packing your goods carefully. After all, no one wants to damage the goods because of the packaging.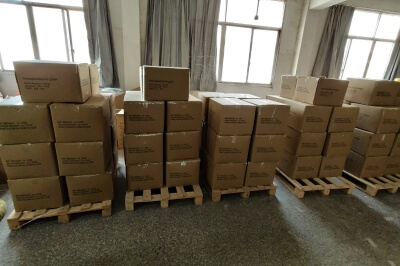 Ready for shipping
Now, after your goods have gone through multiple QC inspections and well-protected packaging, they are waiting for delivery here.
Container loading
Look, your bamboo products are being loaded into containers, and the rest is logistics. You can choose shipping by sea, air, express, rail, etc.
Yi Bamboo License verified report
SEDEX social audit report
BSCI Certificate
PU lacquer test report
water base lacquer test report
Formaldehyde Test Report
Online contact and registration forms from
Wufoo
.
Questions? Write us!

7/24 Hours Service, we will always be back to you as quick as we can, and won't more than 12 hours after received your message. Any question feels free to contact us right away. ????

Phone/WhatsApp/WeChat:

+86 189 5022 7687

info@yibamboo.com